Who am I?
My name is Andy Hayes
What do I do?
I am a Database Administrator (DBA).
My background and current position
I have been working in IT since 1997. I started working in technical support. As part of that role I got to work with FoxPro and MS Access which taught me a lot of basic things about databases. In 2002 I got to work on a big project involving SQL 2000. I worked alongside a DBA who had heaps of experience and she inspired me to learn more.
In 2003 I got a role as a DBA. Since that time, I have worked with a variety of database and search products – Microsoft SQL Server, MySQL, MongoDB, Oracle's Endeca and Solr. In 2013 I took the online MongoDB M102 course to bring myself up to speed with the administration aspects of the product, achieving a 100% pass score.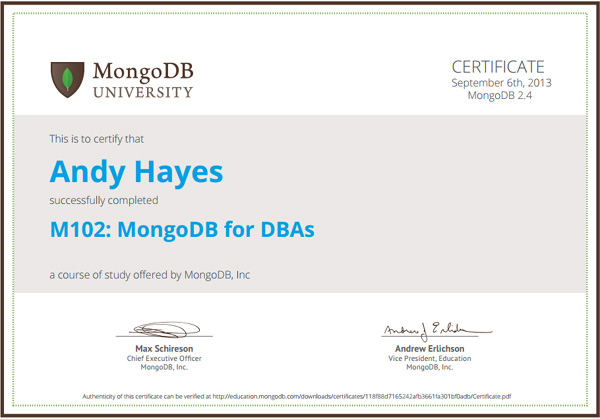 I have also worked extensively with Salesforce and Netsuite ERP successfully migrating company CRM, financial and sales order data via custom built scripting using SQL Server Integration Services.
In my role today, I am working with company data warehouse architecture and ETL processes.
Why am I writing this blog?
When I started working with database software, it quickly became apparent just how much there is to learn and how quickly the industry is moving. SQL Server is not just a database engine for storing and retrieving data. There is so much more which a database professional can do to provide a solution to the business. SSIS, SQL Server Reporting Services (SSRS) and SQL Server Analysis Services (SSAS) provide powerful ways of transforming, reporting and analysing data and one can become an expert in any of these categories alone.
I wanted to start a blog as a way of noting down my experiences so that others could benefit from them either simply because they were interested or that they have a problem which they are trying to solve. This blog will also help me develop my skills as a database professional as I research and write about new topics which I have not touched upon before.
Guest Posting
I welcome contributions to my blog in the form of comments and guest posts. If you want to write a guest post, please get in touch.
Keep in Touch
You can follow me on Twitter, Facebook, Google+
And finally..
I know I will enjoy writing this content and I hope you enjoy reading it and find it useful.